The power of
phages

for animal health
New tools for detecting pathogenic bacteria and alternative solutions to antibiotics based on phages and phage proteins to counter antibiotic resistance.
Bacteria know no geographic or species boundaries. Bacterial antibiotic resistance therefore concerns all countries and all species. The fight against antibiotic resistance is the responsibility of every country, and concerns both humans and animals.
This is why it is essential to find alternative solutions to the use of antibiotics in livestock production, which is correlated with the increasing discharge of active ingredients into the environment.
DEATHS PER YEAR IN FRANCE DUE TO ANTIBIOTIC RESISTANCE
DEATHS PER YEAR WORLDWIDE DUE TO ANTIBIOTIC RESISTANCE
DEATHS PER YEAR WORLDWIDE DUE TO ANTIBIOTIC RESISTANCE ESTIMATED IN 2050
Antibiotic resistance is one of the most serious threats to global health, food security and development today.
— WHO, World Health Organization
We need new ways of combating antibiotic-resistant bacteria.
Antibiotic resistance is on the rise in all areas of healthcare. Their widespread, unrestricted use over decades has enabled bacteria to adapt to them. If nothing is done, antibiotic resistance will kill more people than cancer within a few decades. Vetophage offers new rapid bacterial detection tools for more targeted management of the bacteria responsible, to put an end to "blind" treatments. In parallel to detection, our technology will be used to design solutions capable of destroying antibiotic-resistant bacteria in animal health.


Antibiotic resistance on the rise



Increased costs of managing pathogenic bacteria



Animal welfare compromised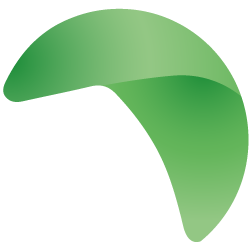 Vetophage committed to the fight against antibiotic resistance in animal health
From the outset, Vetophage has been supported by veterinarians aware of the great potential of our technology for animal health. It was therefore only natural that we should focus our efforts on finding new solutions to combat resistant bacteria in animals. In a "One Health" context, however, the vast majority of efforts to combat antibiotic resistance remain focused on human health. At Vetophage, we are convinced that the response to antibiotic resistance must be global, and that animal health and the environment must not be forgotten.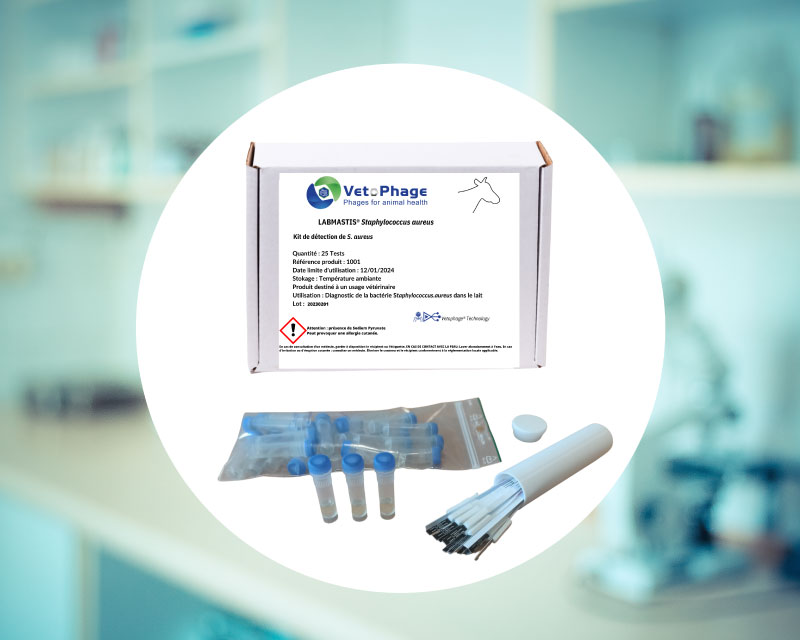 LabMastis S.A
LabMastis S.A is a new tool for managing Staphylococcus aureus bacteria on dairy farms, and the first product in Vetophage's "Mammite" range to enter the veterinary market.
With LabMastis S.A, we offer the possibility of powerful, rapid detection of Staphylococcus aureus bacteria in the field, without the need to send samples or buy machines, and with simplified interpretation of results. LabMastis S.A means detection for all!
A phage-based technology platform
Vetophage has rapidly built up a large phage bank in its fight against pathogenic bacteria in animal health. This phage bank is the raw material for the technological platform needed to design new tools for rapid bacterial detection and effective treatment solutions.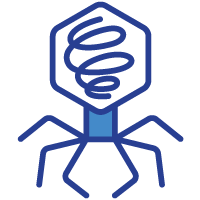 DEVELOPMENT OF NEW TOOLS FOR THE RAPID DETECTION OF PATHOGENIC BACTERIA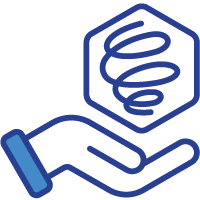 DEVELOPMENT OF PHAGE PROTEIN COCKTAILS AGAINST PATHOGENIC BACTERIA ON DEMAND
Bovine mastitis
Three bacteria are responsible for 60% of bovine mastitis: S.aureus , E.coli , S.Uberis. By drawing on its phage bank, Vetophage is able to offer solutions for rapid detection of these bacteria and alternative treatments to antibiotics.
Pets
Pets can also fall victim to resistant bacteria such as S.aureus. Vetophage has a bank of phages and proteins (endolysins) to develop targeted treatments against this bacterium as well as Staphycoccus pseudintermedius.
Livestock
Piglets, calves and poultry are just a few examples of livestock that fall victim to pathogenic bacteria on a large scale. The consequences can be catastrophic, with high mortality rates and substantial economic losses.
Aquaculture
Fish and shellfish are not spared from some devastating bacteria. Vibrio parahaemolyticus, for example, can rapidly destroy entire shrimp farms and cause food poisoning in humans. Vetophage also has an extensive phage bank capable of treating this bacterium.